Biogas


In August 2010, members of Biogaz Québec joined forces with the AQPER. The founders and members of Biogaz Québec continue their work to promote the use of biogas and to develop a market for this renewable source of energy as members of the AQPER Biogas Committee.

What is biogas?
Biogas is produced through the biological degradation of organic matter in an oxygen-free environment. The process, known as anaerobic digestion, yields a gas composed of 50 to 75% methane (CH4) and 25 to 50% carbon dioxyde (CO2). In comparison, natural gas contains approximately 97% methane. Essentially, biogas is a form of diluted natural gas with lower calorific value.

Biogas can be produced in landfill sites and in agricultural, municipal or industrial anaerobic digesters. This renewable energy can be:
Used as fuel to produce hot water or steam;
Used as fuel to run generators that produce electricity and heat;
Refined for injection in the natural gas grid;
Compressed to fuel natural gas vehicles (NGV).
Biogas combustion is carbon neutral; it reduces greenhouse gas emissions when used instead of fossil fuels.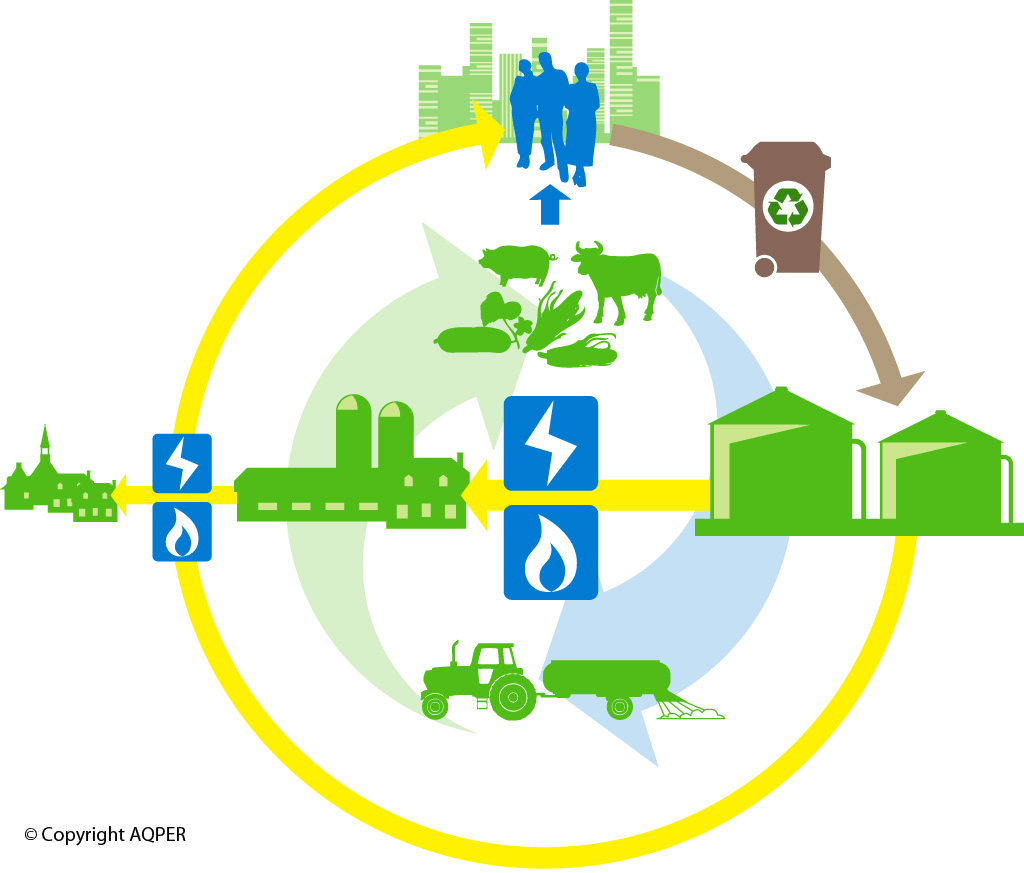 Carbon cycle in agriculture
Anaerobic digestion utilizes the organic matter left from farming and food processing and produces biogas, which then serves to heat buildings and generate electricity. The residue or digestate out of the digesters can be used as a fertilizer.
Anaerobic digestion can use waste rather than food crops. It reestablishes the natural carbon cycle in a sustainable agriculture, diversifies and consolidates sources of revenue for farmers and helps agriculture fulfill its main role: feeding people.
Making the transition to biogas
Sweden was one of the first countries to see the benefits of using biogas to produce electricity and fuel for passenger vehicles and transport fleets. For more information about the Swedish model of sustainable energy development, click here.
Potential in Quebec
If biogas were to be developed to its full potential, Quebec could:
Generate 5,1 TWh of electricity
Add 1,3 G cubic meters of gas to the pipeline
Replace 1 Gl of diesel fuel
Reduce GGEs by 2 Mt/year
Still curious? Click here to see a video on biogas production.